Baked Tofu and Noodles
Serve upon a bed of noodles with some token greens. A little sauce goes a long way as well as that final sprinkling of sesame seeds. Recipe courtesy of CLF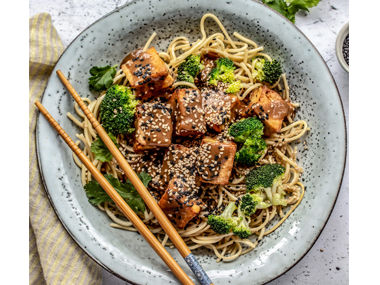 Preparation
Preheat your oven to 200°C (400°F).
Place tofu in a bowL, cover with the tamari or soy sauce, the olive or sesame oil, and then add in the starch.
Place on a baking tray and bake for 25 minutes, tossing halfway through.
Cook noodles according to the packet's instructions.
Whisk together all sauce ingredients.
Once the tofu is cooked, add your sauce to a pan. Allow to heat through for just a minute or two before adding in the tofu and tossing to coat.
Serve on a bed of noodles with broccoli (or other preferred green veggies) and sprinkle with black and white sesame seeds to serve.
Courtesy of CLF Distribution