Lentil stew with Smoked Tofu
A deliciously healthy stew with lentils and Taifun smoked tofu. You can make this soup anytime during the winter to keep it seasonal.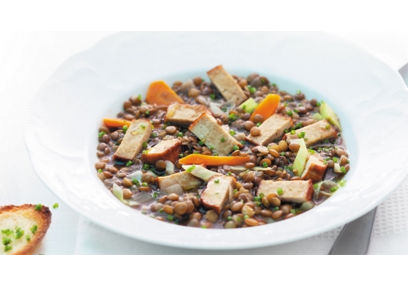 Preparation
Dice the onion finely. Place the oil in a pan and sweat the onions along with the lentils. Add the water and simmer at low heat for around 20 minutes. Dice the carrots, finely slice the leek and add both to the lentils.
Slice the Smoked Tofu lengthwise, and in a non-stick pan, fry at high heat in oil until crisp on both sides.
Add the Smoked Tofu to the lentils and simmer until the lentils are cooked through. Season with salt, pepper and vinegar. Serve with baguette or spätzle noodles.
You can also use other kinds of vegetables and seasonings in this recipe. Fresh chives can be used as a garnish too.
Courtesy of Taifun