Smashed Pea & Almond Toasts
Sourdough bread is available from our shop every week from Thursday!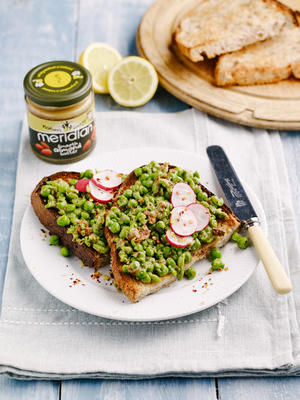 Preparation
Toast the bread and defrost the peas in hot water. Drain the pea and roughly mash in a bowl with a pinch of salt, the Meridian Smooth Almond Butter and a squeeze of lemon juice.
When the bread is toasted drizzle with a little oil and give a quick rub with the garlic. Thickly spread the pea smash on top and garnish with slices radish, a few chilli flakes and some lemon zest.
Courtesy of Meridian Foods