Pumpkin & Pecan Pie
Typically served at celebratory meals in the Southern states of America, this pie links the classic combination of pumpkin, pecan nuts and aromatic warm spices in a pastry case. Serve warm as a dessert or chilled with a cup of coffee.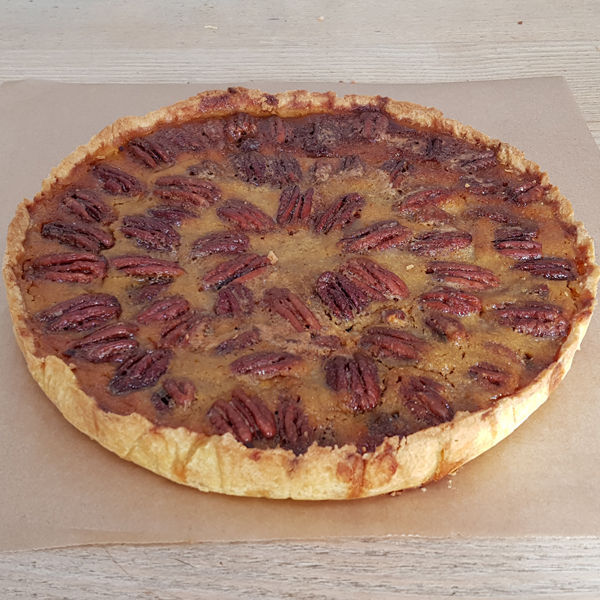 Preparation
Pumpkin
Pre-heat the oven.
Chop the pumpkin into chunks, put the pieces onto a lightly oiled oven tray and bake for 40 minutes until soft.
Remove from the oven and leave the pumpkin to cool completely.
Reduce the oven temperature to 190°C, Fan 170°C, 375°F, Gas 5.
Sweet pastry
Line a tart or flan dish with parchment or rub the edges with butter and pre-heat the oven.
Put the flour and butter into a large bowl. Use a fork or pastry blender to work them together until the mixture resembles fine breadcrumbs.
Stir in the sugar.
Add the egg yolks and stir well.
Using your hands gather the mix together to form a smooth ball of pastry dough.
Roll out the dough between two pieces of parchment or film, remove the film and transfer it to the prepared dish. Or simply press the dough into the dish using your fingers.
Cut away any pastry that hangs over the edge of the dish.
Prick the pastry all over with a fork.
Chill the prepared pastry until required.
Blind Baking
Lay a large piece of parchment over the raw pastry, making sure all the edges are covered.
Scatter ceramic baking beans (or rice or flour) over the parchment, spreading them all over the surface.
Bake for 10-12 minutes, remove from the oven and carefully lift the parchment and contents off the pastry.
Reduce the oven temperature to 180°C, Fan 160°C, 350°F, Gas 4.
Pumpkin Pie
Remove and discard the pumpkin skin.
Put the soft pumpkin into a kitchen blender.
Add the sugar, milk, egg and mixed spice and pulse into a smooth puree.
Pour the filling into the prepared pastry case.
Topping
Put the egg into a bowl, add the maple syrup and beat to combine.
Add the pecan halves and mix thoroughly.
Place the pecans onto the pie in a decorative pattern.
Drizzle any remaining liquid over the top.
Bake for 50 – 55 minutes.
Delicious served warm or chilled.
Courtesy of Doves Farm