Carrot Salad with Butter beans
Vegan, vegetarian, seasonal and raw! Make the most of Spring!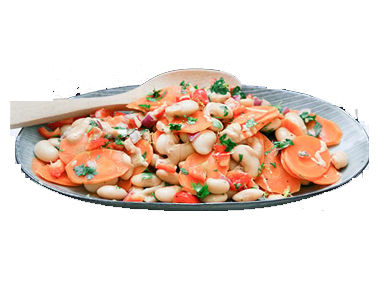 Preparation
If you are using dried beans:
Soak the dried butter beans overnight in cold water. Discard the water and replace with fresh water. Boil for around 45 - 60 minutes until soft.
Or drain the butter beans, if using canned butter beans.
Make a salad with all the fresh, raw ingredients.
Make a dressing with the lemon juice, light tahini, olive oil, ground cumin and ground pepper to taste.
Add the dressing to the salad.
You can serve this dish with some toasted (gluten free) bread and Bute Island soft sheese for a wholesome meal.