Dutch Hutspot
Carrot, onion and potato mash
A classic winter dish in the Netherlands. Cheap, easy and nutritious. Serve with smoked sausage or for a vegetarian or vegan option, choose smoked tofu.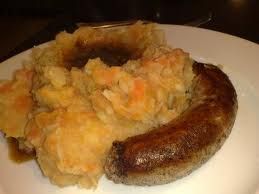 Preparation
Put potatoes, carrots and onions all in a big pot and boil until everything is soft. Then using a potato masher, mash everything together adding a little (rice) milk on the go.
And that's it! As I said it is really simple and quick to make.
To serve, make a pile on the middle of the plate, form a well in the middle, pour in the gravy and serve the sausage next to your 'volcano'. (Oooh, childhood memories....)