Trout & almond pesto Sea Spaghetti
What a great and healthy early summer dish!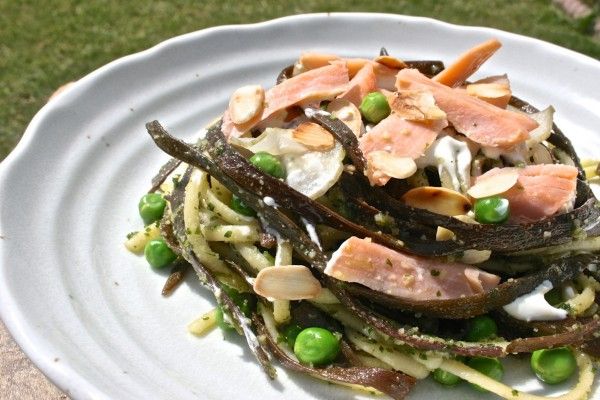 Preparation
Pesto
Pulse all ingredients in a food processor or pestal and mortar, add enough oil to reach your preferred consistency, we kept ours quite loose so it coats the pasta and seaweed nicely. This will last in an air tight container for about a week in the fridge.
- Cook linguini according the the packet instructions. Bring a separate pan of unsalted water to the boil, the Sea Spaghetti seaweed will need about 15 minutes. (They can be cooked together if you are short on pots and time but otherwise it's better to cook separately.)
- Bring a small pan of water to the boil and cook the peas for a couple of minutes.
- Once the seaweed and pasta are cooked coat thoroughly in the pesto then add the peas and top with creme fraiche, lemon zest, flaked trout and toasted almonds.
Quick pickled cucumber
As an optional extra we added pickled cucumber for a tasty zing.
- Thinly slice the cucumber.
- The pickling liquor is equal parts water, vinegar and sugar with a few crushed peppercorns and a pinch of salt. Slowly heat up until the sugar dissolves, when cooled add the cucumber.
- They will be ready within an hour, but can be stored in a sterilised jar for up to a month in the fridge.
Courtesy of Atlantic Kitchen