Cauliflower Pizza (Gluten-free)
Who knew you can use cauliflower to make a gluten free pizza base?? Try this recipe from A.Vogel and see for yourself.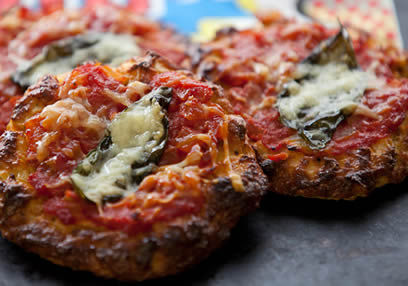 Preparation
1. Pre-heat the oven to 200C/400F/Gas 6.
2. Line a baking tray with baking parchment.
3. Blitz the cauliflower in a food processor until powdery. Simmer in a pan of boiling water for 5 minutes. Drain and leave to cool before wrapping in a clean tea towel and squeezing to wring out excess water.
4. Place the cauliflower in a bowl and mix with the cream cheese and egg. Season well.
5. With clean hands, divide the mixture into four portions and shape on the lined baking tray to make a 1-1½ cm thick pizza base. Bake for 30-35 minutes, until firm and golden.
6. Add a dollop of the tomato sauce and toppings of your choice to the cauliflower pizza base. Bake for about 10 minutes.
Courtesy of A. Vogel (Bioforce)
Preparing the Tomato Sauce
To make the sauce, heat the oil in a pan, add the onion and cook until translucent. Add the garlic, chilli and tomatoes and simmer for 10-15 minutes. Add the fresh basil and blitz in your blender to make a smooth sauce.