Roast Vegetable Wellingtons
A very festive dish to please both vegans and meat eaters! I'm going to try it myself... it just sounds so tasty!
Apparently Jus-Rol puff pastry is suitable for vegans, but best to check!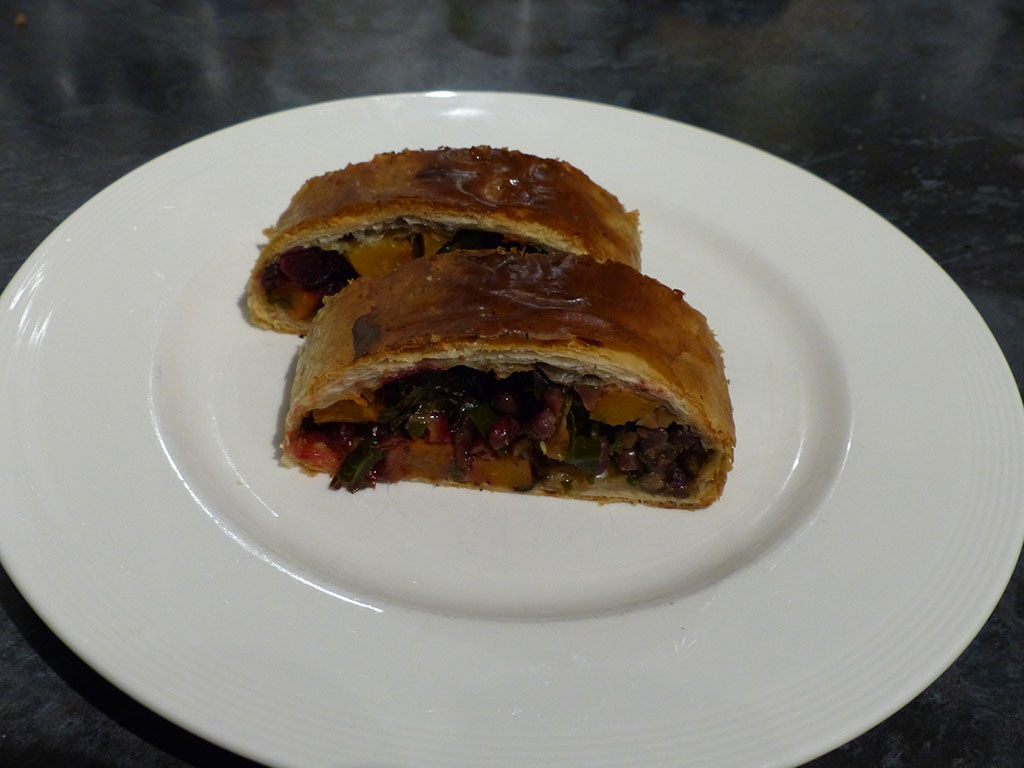 Preparation
Soak the puy lentils overnight and cook for 20 minutes.
Toss together the onion, beetroot, squash, garlic cloves, 2 tbsp olive oil, thyme and sumac (or lemon zest) and roast in the oven (190C/Gas 5) for around 45 minutes.
Add the cooked puy lentils and half the pack of chestnuts. Squeeze the garlic cloves from their skin and add half of it to the lentil/vegetable mixture.
To make the kale pesto:
Boil the kale for only 1 minute, cool rapidly under cold running water. Remove as much water as you can. Put the kale in a blender together with the rest of the chestnuts, the garlic puree, 4 tbsp olive oil and the lemon juice. Blend until you have a smooth paste.
On a lightly floured surface, unravel the sheets of puff pastry. Cut each sheet into three (width ways), spread one-third of the kale pesto along one half of the pastry, then divide the lentil/veg mixture between the pastry rectangles. Heap the mixture on top of the pesto, leaving one side free of filling so that it is easier to roll. Brush all the borders with half the milk, fold over the ends, and then carefully roll the pastry lengthways to completely encase the filling into a roll. Place on a baking tray lined with baking parchment and chill for at least 1 hr, or cover with cling film and leave overnight.
Brush the tops with the almond milk and sprinkle with a little bit of sumac (or flaked salt).
Place on a baking paper lined oven tray and bake for around 30 minutes in the oven (190C/Gas 5).