Jerusalem Artichoke Soup
Jerusalem Artichokes are a real winter vegetable, don't worry too much if you produce a lot of, er, 'wind' the next day, that's completely normal because Jerusalem artichokes contain a fibre called inulin which ferments rather than digests, thus creating gas.
Some good independent greengrocers will stock these knobbly roots, but if you can't find them, you can always substitute with parsnips.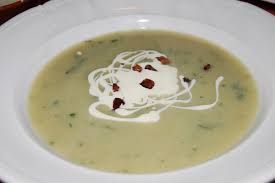 Preparation
Heat the sunflower oil in a big pan, add the onions and garlic and fry for 2 minutes, add the leek, potatoes and Jerusalem artichokes and fry until light brown.
Add the stock and simmer for around 25 minutes until all the vegetables are soft.
Puree the soup and add soya cream. Warm through before serving.
Serve with crusty wholemeal bread topped with almond butter, olive oil or cheese.